DD FREE DISH MPEG4 set top box me mostly confusion dekhi gyi h. Ki konsa le or konsa nhi. Aaj mai aapko kuchh MPEG4 SET TOP box recommend kar raha hu. Jinko aap online purchase kar sakte ho. Ye sabhi box price ke according best h. Agar aapki local market me ye milte h to aapko price ka difference jarur milega. DD FREE DISH ka mpeg2 receiver mostly users use karte h. Lekin jab bhi new box le to MPEG4 box hi purchase kare.
      1. DD FREE DISH PRYSM St. MPEG4 ICAS SET TOP BOX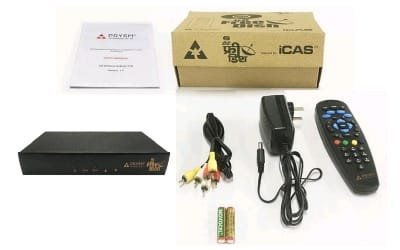 DD FREE DISH ke Authorized set top box ke liye aap humse contact kar sakte h. Jiski complete information aapko yaha TOUCH karke mil jayegi. Lekin abhi icas box lene ka koi fayda nhi h. Aap below diye gye boxes me se koi bhi le sakte ho.
2. Catvision Advanced 2 in 1 Set Top Box with Mobile Cast to Television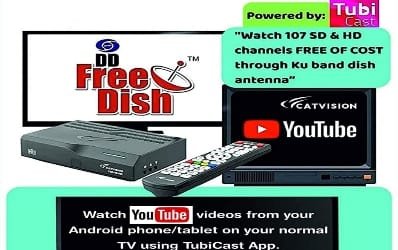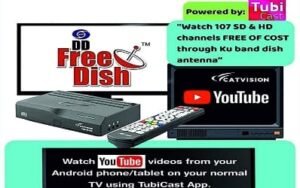 With Catvision Smart Set Top Box (STB) watch more than 100 standard definition (SD) and high definition (HD) channels including movies, sports, entertainment, news, devotional, FREE OF COST.

With TubiCast app watch YouTube videos & movies from your mobile to your TV.

Record your favourite programs to playback at your convenience.

Certified by the Bureau of Indian Standards (BIS)

Support DVB-S/S2 Digital  TV signal modulated  in QPSK/8PSK
HDTV/SDTV MPEG -2 & MPEG-4 H.264 Decoding  Support  576i /576p/720p/1080p

IF YOU WANT TO BUY

CLICK HERE


 

3. BELTON ALPINE DD FREE DISH MPEG4 SET TOP BOX ( YOUTUBE & WIFI )

Support IP TV, VOD, WiFi 3G Modem, Network App (YouTube etc), DVR & IP Camera.
Fully Compliant with DVB-S2 Reception standards. Reception for SCPC/MCPC.C/Ku BAND.
Sharp Tuner Inside, convenient auto search function.
Capacity for storing upto 2000 transponders and 5000 channels. Channel edit function including.
USB 2.0 port at front support USB 2.0 PVR, MP3, AVI, DAT, MKV, MP4, MPG, VDB, WMA, BMP, JPG photo playback.
If you want to Buy then CLICK HERE

4. IB-Q7 PRO MPEG4 FREE TO AIR FULL HD 

Sayeny Q7 Pro, Free to Air MPEG 4 HD TV & make your TV Smart Set top Box with Pendrive Slot
Internet Support Through Dongle
DLNA (Connect your mobile with TV & make your TV Smart)
HD DVB-S2 Receiver standard
USB,HDMI,RCA,LED display(optional)
Signal, DC in (AC in), Audio L/R/Video
MPEG-4,PAL/NTSC automatic Coaxial/Optical/other functions optional Fully compliant with DVB-S/DVB-S2/MEPG-4/H.264 CVBS/RGB/YPbPr/HDMI/Scart output supported SCPC&MCPC receivable.
IF YOU WANT TO BUY CLICK HERE

      5. STC Wifi Digital Satellite Receiver – H-500 Mpeg-4 -Hd- Set Top Box – Include Wifi Dongle(Receiver)

12 Month Warranty, HD Recording

HD Recording ( 2 USB Port + HDMI Port )

Fully compliant with DVB-S2 Reception standards
HDTV/SDTV MPEG -2 & MPEG-4 H.264 Decoding
Support 576i /576p/720p/1080p FullHD Reception
IF YOU WANT TO BUY CLICK HERE

     

 6. SOLID HDS2X-8181 H.265 T2-MI HEVC DVB-S2X Full HD Digital IT-BOX

Ram 1Gb
Support RJ45 ETHERNET LAN & EXTERNAL USB WiFi Antenna
Support  Network Apps – You can connect with the Internet by using external Wifi adapter and RJ45 ethernet network cable to access the Internet to enjoy YouTube, DLNA and other Network applications.
Two high-speed USB 2.0
Fully Compliant  with the DVB-S / DVB-S2 / DVB-S2x digital TV Reception Standards
Support /SDTV MPEG2/MPEG4/H.264/H.265 HEVC decoding
Support 480i/480/576i/576p/720p/1080p
Capacity  for storing up to 2000 Transponders and 4000 channels
Support  DVB-S/S2/S2X digital TV signal modulated in QPSK/8PSK/16APSK/32APSK
Reception for SCPC/MCPC.C+Ku Band reception Support  USB 2.0 and OTA software upgrade
Support USB 2.0 PVR, MP3/WMA, AVI /MP4/BMP/JPG photo playback
IF YOU WANT TO BUY CLICK HERE

        7. SOLID HDS2X-7272 HD Digital Set-Top Box

Support Internet Streaming Links
Support Wi-Fi Adapter by USB ports
Support_External Pan drive by USB ports
Support Network APP
Fully compliant with DVB-S2 Reception standards
HDTV/SDTV MPEG -2 & MPEG-4 H.264 Decoding
Support 576i /576p/720p/1080p FullHD Reception
Convenient Blind search function
Intelligent graphical user interface design
Capacity for storing up to 2000 Transponders and 5000 channels
Support DVB-S/S2 Digital TV signal modulated in QPSK/8PSK
Input Frequency range 950MHz-2150MHz.
Support DiSEqc1.0/DisEqc1.1/DiSEqc1.2/DiSC 1.3.
Reception for SCPC/MCPC, C+KU Band
Channel edits function including favorite Move. Delete Lock. Skip. Rename
Variable aspect ratio 4:3 Full, 16:9 widescreen .4:3 Letterbox or AUTO Modes
USB 2.0 port at front and back
Support USB 2.0 and OTA Software upgrade.
Support Live TV Channels recording in external pan drive
IF YOU WANT TO BUY CLICK HERE

      8. DILOS HDS2-3015DLX FULL HD DVB-S2 

Support Network APP
Fully compliant with DVB-S2 Reception standards
HDTV/SDTV MPEG -2 & MPEG-4 H.264 Decoding
Support 576i /576p/720p/1080p FullHD Reception
Capacity for storing up to 2000 Transponders and 5000 channels
Support DVB-S/S2 Digital TV signal modulated in QPSK/8PSK
Variable aspect ratio 4:3 Full, 16:9 widescreen .4:3 Letterbox or AUTO Modes
USB 2.0 port at front and back
Support USB 2.0 and OTA Software upgrade
Support Live TV Channels recording in external pan drive
IF YOU WANT TO BUY CLICK HERE

      9. SOLID HDS2-6363 DIGITAL I.T BOX FOR GAINING ACCESS TO INTERNET AND SATELLITE

Support USB WiFi Antenna & IPTV
Ram 512 mb
Support  Network Apps (youtube etc)
Two high-speed USB 2.0
Support /SDTV MPEG2/MPEG4/H.264 decoding
Support 480i/480/576i/576p/720p/1080p
Capacity  for storing up to 2000 Transponders and 4000 channelS
Support  DVB-S/S2 digital TV signal modulated in QPSK/8PSK/16APSK/32APSK
Variable aspect  ratio (4:3,16:9) 4:3 pan &scan or letter box mode
Support  USB 2.0 and OTA  software upgrade
Support USB 2.0 PVR ,MP3/WMA,AVI /MP4/BMP/JPG photo playback
IF YOU WANT TO BUY CLICK HERE

       10. SOLID HDS2-2100 Pro Full HD DVB-S2 Set-Top Box with Streaming, DLNA and SATIP

Support Internet Streaming Links with Wi-Fi Adapter by USB ports
Support_Network APP (YouTube, Daily Motion, Vimeo, SATiP, and DLNA, etc)
HDTV/SDTV MPEG -2 & MPEG-4 H.264 Decoding
Support 576i /576p/720p/1080p FullHD Reception
Capacity for storing up to 2000 Transponders and 5000 channels
Support DiSEqc1.0/DisEqc1.1/DiSEqc1.2/DiSC 1.3
Reception for SCPC/MCPC, C+KU Band
USB 2.0 port at front and back
Support USB 2.0 and OTA Software upgrade.
Support Live TV Channels recording in external pan drive
IF YOU WANT TO BUY CLICK HERE

   11. SOLID HDT2+S2-6600 Free To Air Satellite, Terrestrial, and Internet Video Streaming IT-Box

Supprot USB WiFi Antenna & IPTV
Support _Network Apps (you tube etc) with Two high Speed USB 2.0
Support /SDTV MPEG2/MPEG4/H.264 decoding Support 480i/480/576i/576p/720p/1080p
Capacity  for storing up to 2000 Transponders and 4000 channels
Support  USB 2.0 and OTA  software upgrade
PVR ,MP3/WMA,AVI /MP4/BMP/JPG photo playback
It's Support DVB-T2 Digital TV signals.
IF YOU WANT TO BUY CLICK HERE

      12. GTMEDIA Receiver V8 NOVA 

Full HD digital DVB-S2 receiver, high definition STB decoder, 1080P output via HD, supports AVS+, H.265.

10000 channel (TV and radio) programs, 32 different favorite groups selection.

Supports built-in WiFi module, Ethernet, full speed 3G USB dongle (not included).

Supports automatic PAL / NTSC conversion; PVR ready, recording and time shift.

Plug and Play installation, with an easy to use Menu System.

Warranty not applicable for this product

Its only dd free dish mpeg4 purpose only
IF YOU WANT TO BUY CLICK HERE

dd free dish mpeg4 set top box